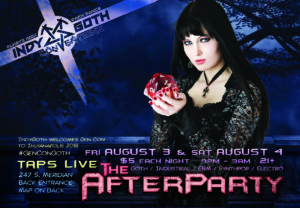 #GenConGoth IndyGoth Conventions Presents 2 NIGHTS of 'The Afterparty' on Friday Night August 3rd, and Saturday Night August 4th, of Gen Con Indy! Low-cover, improved space, just 100% Dark Dance (No mainstream BS) mayhem.
A couple of blocks from the Indiana Convention Center, walk on over, avoid the lines by going around to the back entrance, and PARTY
247 S. Meridian St, Back Entrance. (map on back view of flyer, or map it on your phone; its close!)
Live Set Friday by BLAK (Deathrock from Indianapolis, IN)
Live Set Saturday by The New Void (Dark Romantic from Cincinnati, OH)
DJs All night until 3am from Mister-E-DJ, DJ WickedGoth (Afterdark Resurrection) plus hometown heroes Jin-XS, Badfaerie, Catravine and Rev Spook
Only $5 cover each night, must be 21+
No badges necessary, wear what you wish!
http://indygoth.net
http://evilgraphics.com
Equipment and Lights provided by:
http://broadrippledj.com